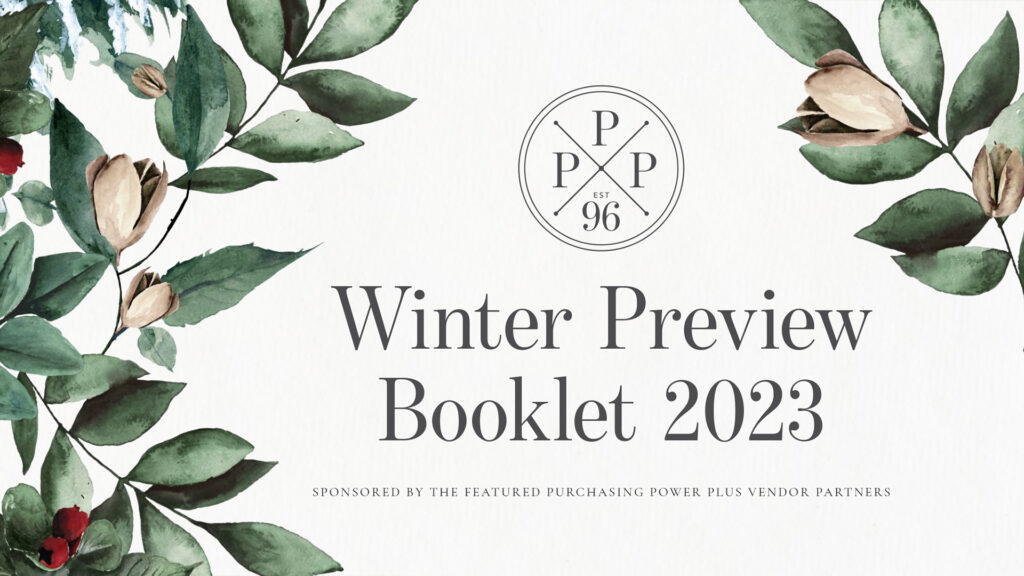 CLICK ON IMAGE TO OPEN YOUR COPY
Our Winter Preview Booklet is a digital guide that highlights industry leading vendors in the Purchasing Power Plus Community. Here we explore new product introductions, extra savings opportunities and when applicable the location of PPP Vendors featured in these pages at key markets. Whether traveling to market or planning your buys for 2023 – let this guide inspire you!
You will also find within these pages two giveaways from a sponsoring Vendor.  Click here to enter for a chance to win!
We have formatted our guide as a PDF in the style of an e-magazine and are sharing two sections:
• Section One: Vendor Partners offering an extra 5% discount to all PPP Retailers in January and at featured Winter Markets.
• Section Two: Vendor Partners offering the standard PPP discount to all PPP Retailers.
Note: Purchasing Power Plus discounts cannot be combined with any other show offerings and regular exclusions still apply. You are free to select the best offering for you. Please read the details including applicable Mart locations of each incentive, as they do vary by Vendor.
Be sure to identify yourself as a PPP Retail Member Store and provide your store number to ensure your PPP discount and benefits are applied to all eligible orders.
Featured Winter Markets
January 10 – 16, 2023 – Atlanta Market
AmericasMart, Atlanta, GA
www.americasmart.com
January 4 – 10, 2023 – Dallas Total Home & Gift Market
Dallas Market Center, Dallas, TX
www.dallasmarketcenter.com
January 29 – February 2, 2023 – Las Vegas Market
World Market Center, Las Vegas, NV
www.lasvegasmarket.com
Our sincere appreciation is extended to all the PPP Vendor Partners, featured in this booklet, and whose sponsorship have made it possible.